Kirkland Asphalt Paving Services
Kirkland Asphalt Paving from Compton Builders offer full-service commercial, residential, & industrial complex across Washington State.
Asphalt surfaces, no matter how well designed and resilient, require maintenance and repair over time. We've provided complete asphalt paving and asphalt driveway maintenance and restoration services to Kirkland residential and commercial clients for over three decades. Our purpose is to provide a comprehensive range of repair services to our customers, from fixing small potholes to restoring entire roadway surfaces. Contact Compton-builders whenever you need asphalt paving in the Kirkland, Covington, Monroe, and surrounding regions.
Advantages of Preventative Maintenance
Many homes or business owners are procrastinating on all the asphalt driveway repairs that need to be done to their properties, as they procrastinate on most other issues. Ensure you carefully inspect the asphalt surface at least twice a year, and let us know if maintenance needs to be performed. There is the certainty that any minor problems will develop into major ones, accompanied by substantial repair costs. Preventative care can take care of minor issues before they become more significant. This will prevent the need for costly and time-consuming repairs and maintenance.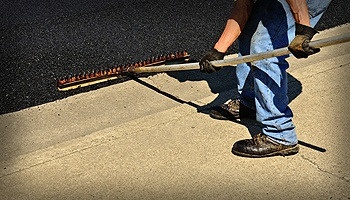 We provide a full range of services for all types of asphalt surfaces, from repairs and replacements to maintenance and installation. Among these are sidewalks, parking lots, ramps, curbs, speed bumps, driveways, walkways, exit ramps, and so many other things. This work can be done from cut and patch jobs, crack repair and small loose gravel filling, pothole repair, and even section replacement and complete replacement. Our goal is to provide our customers with a fast, reliable, and affordable service by having the latest technology & advanced equipment.
Regardless of what type of asphalt repair work you require, we can do it. We invite you to see the difference a truly professional business can make. We promise that you will not be disappointed.
Complete asphalt resurfacing
If your present asphalt can no longer be repaired, our organization can supply a brand new asphalt road for your home or business. We specialize in complete asphalt replacement. Every project we perform follows a step-by-step procedure.
Excavation and surface removal are the first steps in the procedure. To prepare the location, the ground is graded and leveled. The area is then resurfaced with new asphalt. The site is then resurfaced with new asphalt. To achieve a clean, solid finish, the asphalt is smoothed out.
We provide other services to complete the surface in addition to striping and seal-coating. A brand new asphalt improvement will revive your property's exterior once the job is completed.
Compton Builders has the experience you need when it comes to asphalt repairs. We will consistently deliver the best asphalt repair in Kirkland. Only the highest quality asphalt products are used by our company, ensuring that your new flooring will last for 15 to 20 years if properly maintained. Don't put off getting the asphalt repair any longer. Compton Builders can help you save time and money if you hire us soon.
So, contact us immediately to get your driveway paving in top shape.