Bellevue Asphalt Paving Services
Bellevue Asphalt Paving can handle any work, whether commercial, residential, or industrial complex.
For more than 30 years, we've aided in the completion of local asphalt projects. We've executed many public works projects throughout this time, including driveway pavement. With an experienced workforce, maintaining the completion of our asphalt tasks is more effortless. You can rely on Compton builders to handle every part of any parking lot seal coating, asphalt repair, or asphalt paving project in Bellevue because of their excellent reputation.
Because of the weatherization, oxidation, and rain we have in Bellevue, you will need to undertake asphalt pavement care regularly. The appearance of the pavement might indicate whether the asphalt is beginning to grey or break. Many of your neighbors around Bellevue have trusted Compton Builders with these issues. No matter if it is asphalt road, sealing a parking lot, striping it, or sealing a crack in the asphalt.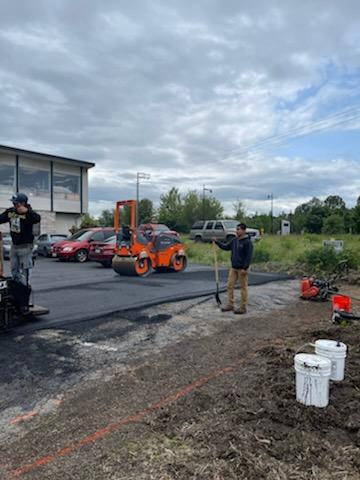 Our Bellevue Asphalt Paving team has the necessary experience to complete the task. Over the years, we've sealed covered asphalt in unusual locations—for example, a new asphalt paving area at the end of a dock or lake. As a result, if you need your asphalt sealed or resurfaced, please get in touch with us. Many of our employees can help you estimate the cost of an asphalt parking lot. It may take a few days to complete an estimate during the busy asphalt season. However, within one week of receiving your request for asphalt maintenance, you will receive a written quotation.
Why are durable pavements worth it?
Maintaining your asphalt pavement will help it last longer for less money.
During the winter, freeze-thaw cycles can cause rapid deterioration beneath the asphalt surface and cracking (potholes). Maintaining the asphalt in your parking lot will help extend its life and decrease costs and liabilities. Its color may fade over time, and unsightly cracks will occur. When these features concern you, Compton-builders can repair your pavement surface. We can resurface and revitalize your driveway if it is dull and worn.
Bellevue Asphalt Paving Pros offers a variety of paving services in Bellevue, WA
Our asphalt paving services are designed to assist both commercial and residential customers.
To ensure the most outstanding results for your property, we employ the best materials and invest our resources in the best ways. We value both your time and your belongings. As a result, we strive to be both nice and trustworthy.
Call us for a free asphalt paving quote when you need high-quality paving services at a reasonable price.
Parking Garages for Commercial lots in Bellevue, WA
If you own a commercial parking lot, you understand its importance to your business. Your customers want to be able to enter and exit your parking lot quickly and safely.
One of our most essential services is new asphalt installation. We use a systematic approach to assess your property, determining what materials may be necessary and analyzing what services may be required. As paving contractors with years of experience, we know how to deliver results that exceed your expectations.
Bellevue Asphalt Paving Services for Homes
Our home asphalt paving services are ideal for driveways, resurfacing, and other repairs. We can also help you design a new asphalt surface to improve the appearance of your property. Contact us for a no-obligation asphalt paving quotation.
Instead, choose our experienced and reliable asphalt paving professionals for an excellent asphalt job.
For a free asphalt evaluation, call or email us a message.
Bellevue Asphalt Paving for both commercial and residential use
You can rely on Bellevue Asphalt Paving professional to handle your home paving project from beginning to end. We remove the old, broken asphalt before grading and earthwork to prepare the site. Call our asphalt professionals, and we'll schedule an onsite inspection.
Our Bellevue asphalt paving firm also offers paving services for commercial and industrial structures. Our organization has worked on large-scale projects, including airport paving and public road construction.
Whether you need a resurfaced parking lot, a park pathway, or installed storm water systems, we can do it all. We provide many alternatives for your asphalt parking lot repair and replacement needs.
Allow our specialists to assist you in determining the best solution for your specific challenges to save you time and money. For a free, fast, and complete quote for your asphalt repair, call us or e-mail us during business hours.