Issaquah Asphalt Paving Services
Issaquah Asphalt Paving from Compton Builders offer full-service commercial, residential, & industrial complex across Washington State.
Compton-builders offers a wide selection of asphalt paving services to fulfill all of your asphalt paving needs. Compton Builders has many locations across the state where it performs its services. We have been delivering comprehensive services to commercial and residential clients for nearly 30 years. We are not only the most significant service provider, but we are also the most cost-effective driveway paving company in the neighborhood.
WHY IS ASPHALT PAVING BENEFICIAL?
When asphalt paving, driveway paving, or asphalt road is paved, tiny rocks, fine sand, and asphalt cement bind the ingredients together, allowing the asphalt paving to stay in place. As soon as the mixture is poured on top, it will be thick, dark tar, which is why the outcome is usually black. It is also highly flexible due to this chemical composition, which is why it is the perfect material for driveways with correct asphalt driveway cost.
Is Asphalt Paving Right For You?
Because of its durability and flexibility, asphalt has become a popular alternative to concrete since it is a very durable and flexible material. Because of its durability, asphalt can handle weather damage and punishment from heavy objects.
Despite all these factors, it can still move, shift, and adjust as it constantly adapts to the elements outside. You should consider asphalt if you're looking for a durable, functional surface that lasts a long time. In comparison to concrete, asphalt is a lot cheaper.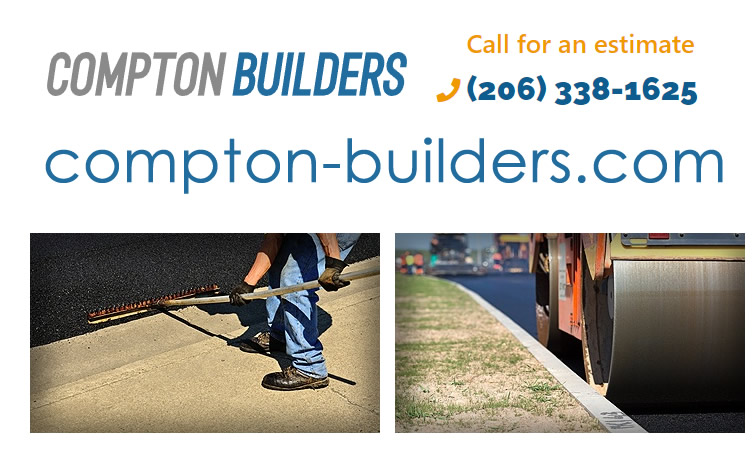 WANT TO BOOK A CONTRACTOR WHO CAN PREPARE AND SET UP ASPHALT PAVEMENTS?
Having a freshly paved asphalt driveway and the parking lot looks great. You are increasing your property's value and giving yourself an enjoyable surface for driving on. It is not an inexpensive investment to put in a new asphalt surface. Your chosen paving companies or contractors should provide you with the highest levels of quality, consistency, and precision.
Suppose you are looking for a professional asphalt paving service to perform an asphalt repair or new construction. In that case, Compton Builders will be able to provide you with a timely, precise, and fair estimate. Our schedule is very flexible, so we can meet your needs in the best possible way. Our Paving provides free cost-effective estimates to all customers needing an assessment of their asphalt condition.
CONSTRUCTION OF DRIVEWAYS
Asphalt paving is the best choice if your driveway is gravel and you have a home with a gravel driveway. In addition to saving you money and making things much cleaner and neater than gravel driveways, asphalt driveways represent the perfect solution for new construction or existing driveways. From the beginning of planning your project, we will work closely with you until the project is completed.
PAVEMENT WORKS FOR PRIVATE ROADS
For private roads, asphalt is one of the better solutions. This route is where you go to get home and meet up with your friends and family. Please make every effort to ensure that they have a pleasant journey. We can develop a spectacular solution for your gravel road using our asphalt paving experts that will last for many years.
Conclusion
Asphalt Paving provides residents in the Issaquah area with dependable service, which is what we do at Compton Builders. Because your home is one of your most significant investments and one of the most important things you own, we plan every project to alleviate your concerns and suit the needs of your home. An asphalt driveway is a durable and cost-effective option for other driveway materials if you have any questions or want to book a free estimate.