Everett Asphalt Paving Services
Everett Asphalt Paving from Compton Builders offer full-service commercial, residential, & industrial complex across Washington State.
Compton-builders has been offering asphalt paving, asphalt driveways, asphalt roads, concrete, and asphalt services to Everett residents for the past 20 years. Compton-builders is a locally owned and run company that prides itself on quality and perfection. You can trust us to complete any asphalt project in Everett, big or small.
 In Everett, getting asphalt can be difficult.
Asphalt paving and the cost of paving a driveway in Everett might be intricate. Many environmental factors influence the process. To do the task correctly while keeping the asphalt driveway cost low. Remember that you'll need a solid understanding of the materials and procedures involved. It is critical to know the exact composition of the asphalt used to build a high-quality, long-lasting paving project of asphalt pavement, for example.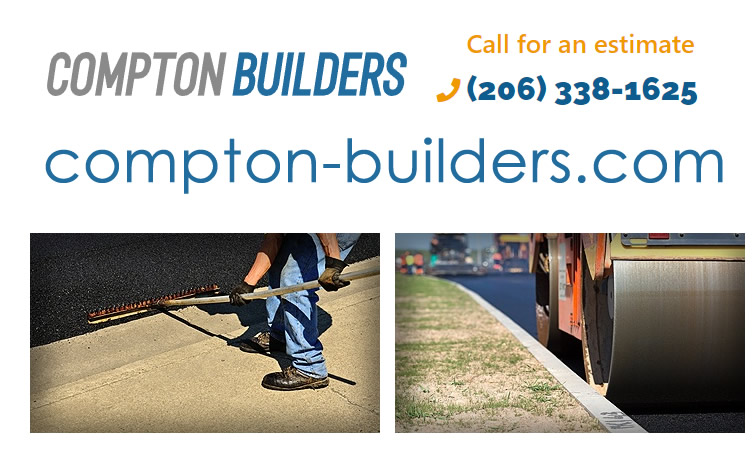 Contractor in Everett who knows what they're doing
Crushed rocks and asphalt cement make up the asphalt itself. Crushed stone and asphalt cement are blended in various proportions. Aggregates and asphalt cement are used in paving mixtures to give strength and durability. However, there are multiple varieties of asphalt. The type of stone used and how it is crushed can significantly impact asphalt contractors.
A rock with a high degree of angularity, or one that is jagged and angular rather than smooth and rounded, has higher friction and skid resistance, which means it will last longer. A related issue concerns the amount and type of liquid asphalt (asphalt cement) utilized. Asphalt cement has a wide range of chemical characteristics. At the same time, this cement is sticky and flexible. Asphalt cement is the heaviest part of crude oil, which is left over after other elements are taken to generate gasoline. Asphalt pavement is mainly made from by-products of oil manufacturing. It is exceedingly thick and challenging to work with at room temperature, but it blends well with aggregates when heated.
Asphalt mixtures come in various grades (the combination of asphalt cement and aggregates). In colder climates, a softer mix (less aggregate, more liquid asphalt) is used, but in warmer temperatures, a more challenging combination is used (more aggregate, less liquid asphalt).
Premium asphalt grades frequently offer enhanced durability in places with heavy traffic, polymers, and other modifiers.
Compton-Builders is the place to go for high-quality asphalt projects in Everett, Monroe or even Fife! Different varieties of asphalt are required for other paving jobs, and only an expert can evaluate the best type.
The Everett area has its circumstances that necessitate a distinct set of talents. Compton-builders have been serving this area for many years. Our enthusiasm for paving and knowledge of asphalt are unrivaled. Our significant expertise in this region, together with these facts, distinguishes us from our competition.
Conclusion
Contact Compton-builders today to learn more about our concrete or asphalt paving services. Everett residents can get a free, no-obligation estimate. Once you speak with one of our experienced and courteous specialists, you will see why we are a cut above the rest in the Everett Asphalt Contractor market. Compton builders professionals are standing by to answer any queries you may have!
Check our reviews and give us a call right now. We'll be pleased to walk you through the steps and handle any questions you may have.